The Financial Planner's View of MLM – why network marketing makes good sense
"The Financial Planner's View of MLM – why network marketing makes good sense" – by James Chia & Ong Hock Siew, ISBN 981-07-9256-1, July 2003, 1st reprint August 2003, 102 pages.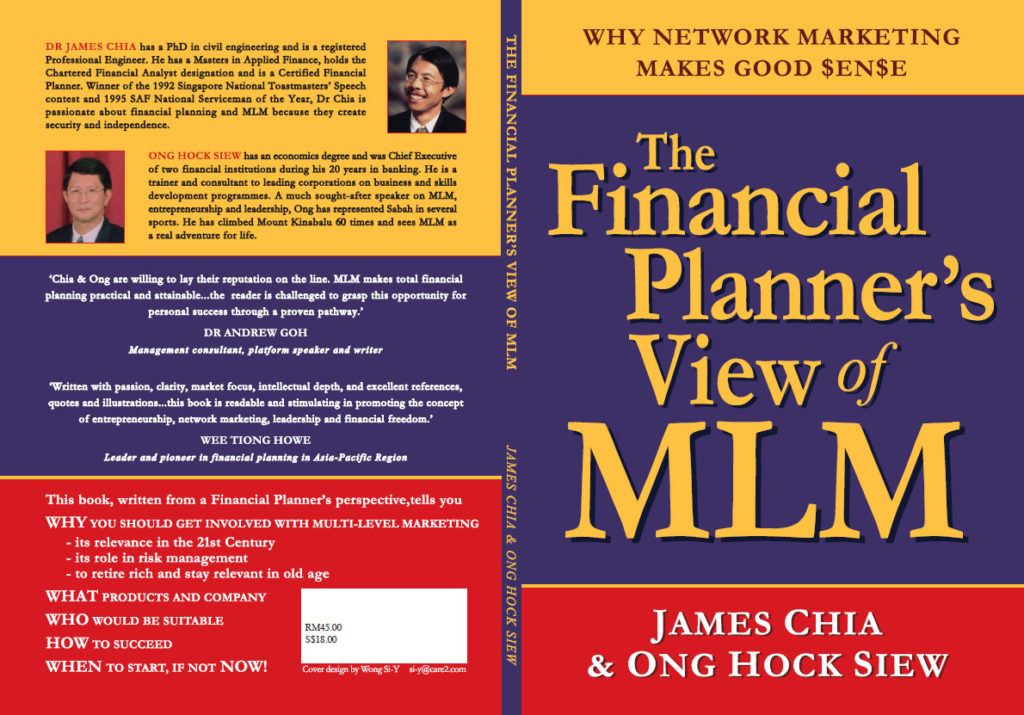 JAMES CHIA spent the first half of his life in the construction industry. He has a first class honours degree as well as a Ph.D in civil engineering, both from the University of Auckland. He was a qualified Professional Engineer registered to practise in Singapore and the UK. He held senior management and directorship positions in a number of companies belonging to the largest construction and engineering group in Singapore.
In 1996, at age 41, he left the construction industry to begin a career in financial planning. Mentored by Wee Tiong Howe, the region's father of financial planning, James rose in his first year to become the top producer for Prudential Assurance. He went on to obtain a Masters of Science in Applied Finance from the National University of Singapore, the Chartered Financial Analyst designation and was among the first batch of Certified Financial Planner practitioners here.
James has been featured on TV, radio and has contributed articles on financial planning in the local press. He was among the pioneers that taught financial planning at the Civil Service College from 1997.
In 2001, James was introduced to multi-level marketing (MLM) as a serious part of his own financial planning. With the guidance and support of many upline mentors, he developed a global MLM distribution network and achieved the highest pin title in only 21 months, all while maintaining his existing businesses. He currently sits on the Leadership Advisory Board of the top Singapore MLM company.
Since 1992, James began developing his communications skills through the Toastmasters movement. In 1993, he won the Singapore National Toastmasters speech contest.
A national servicemen in the Singapore Armed Forces, he holds the rank of Lieutenant-Colonel and was Commanding Officer of a National Service Guards Battalion. In 1995, he was awarded the Singapore Armed Forces National Serviceman of the Year Award; and the Commendation Medal (Military) in 1999.
He is married to Jackie, his partner in life and in the MLM business. They have two sons and a daughter and numerous pets.
Just finished your book. Amazing! Chap 8 is the real deal. You nailed it. Every mlm-er should read this!! No kidding.– Tom Haupt, Business & Leadership Coach and Author of 'Time-Out' (23 Dec 2015)