Introduction
The Biophotonic Scanner is the very first, non-invasive, real-time measurement of the human antioxidant status.
It was developed by Professor Werner Gellermann at the University of Utah based on the Nobel-prize winning technology, Raman Spectroscopy. Professor Gellermann originally developed the scanner to measure the antioxidant levels in a human eye.   When his palm accidentally 'cut' into the path of the bio-laser, it led to the discovery of the biophotonic scanner.
The ability to measure is the basis of Science.  If you cannot measure, you are simply guessing. The Biophotonic Scanner allows you to measure your antioxidant status before and after you have taken our supplements.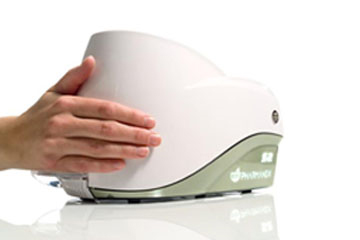 The biophotonic scanner is so revolutionary, it won the American Business Award in 2005. The American Business Award is considered the Oscars of the business world and past winners include AT&T and UPS.  Nu Skin is the first ever network marketing company to win the award.
Nu Skin currently owns the global patent for the biophotonic scanner.