As we get older, our body's ability for cell growth and renewal declines. We begin to look older and start to feel the effects of aging. We lose muscle mass and find it harder to build them. Post exercise recovery takes longer and our metabolism starts to slow as we struggle to be able to do the things we once did with great ease. Our bodies are continually damaged by "Aging Aggressors" that accelerate the aging process. Internal sources of aging aggressors include natural aging due to modulation of aging genes, internal stress, poor diet etc. External sources include exposure to UV and pollution.  Without a way to retard the aging aggressors, our bodies continue to age rapidly, denying us of that quality of life that we so desire.
ageLOC Y-Span is formulated to provide enhanced nutritional benefits that help increase the years we can enjoy life being physically active, energetic, and healthy. It supports and strengthens the body's "Aging Defence Mechanisms" to fight off the aging aggressors.
Although individual ageLOC Y-Span ingredients are found in the diets of some distinct populations, it is the combination of ingredients that is not likely to be achieved solely through dietary intake of any one population. Y-Span draws a variety of ingredients from around the world that has proven to promote youthfulness in those regions. See link for the regions and the foods from there that promote longevity.
The areas in our bodies that will benefit are:
Cellular Health
Brain Health
Heart Health
Metabolic Health
Skin Health
Bone Health
Joint Health
Eye Health
Immune Health resulting in enhanced physical performance
In short, it is all about youth preservation. Testimonials about how it works for various individuals can be found in the following video.
Nu Skin America Testimonials (Old – First users)
Joe Chang Interview on Benefits of Y-Span (Including why Y-Span AND R2)
Right Image : Monica Lam – has many y-span pictures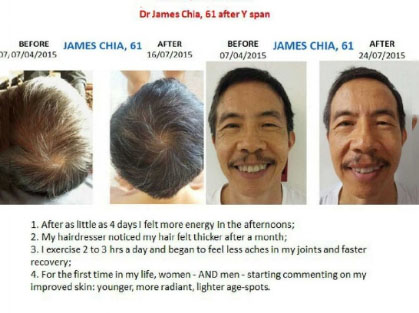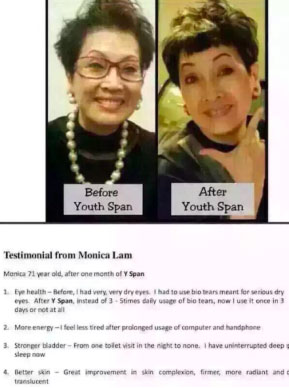 Joe Chang and Mark Bartlett on Ultimate Duo
Y-Span and epigenetics explained
Interview of Joe Chang and Angela Mastaloudis