Younger skin in 8 ways in 7 days
ageLOC Transformation is Nu Skin's first anti-aging system using ageLOC gene expression science, delivering unsurpassed anti-aging benefits. This complete skin care system cleanses, purifies, renews, moisturizes, and reveals younger looking skin in eight ways—for a more youthful looking you now and in the future.
Promote youthful skin structure — patent-pending ingredient technology stimulates collagen production and reduces MMP production (MMPs destroy skin structure).
Smooth texture — contains ingredients proven to stimulate youthful cell renewal for smoother, softer skin you can feel.
Even skin tone — by reducing the appearance of blotchy, dull, and uneven skin for a smooth, youthful look.
Reduce the appearance of fine lines and wrinkles.
Increase skin radiance with skin brightening technology.
Reduce the appearance of pores — through youthful cell turnover.
Reduce discoloration — brightening technology interrupts unwanted melanin production in the skin for a reduction in spots of discoloration.
Increase hydration — by stimulating hyaluronic acid, a moisturizing compound found naturally in the skin.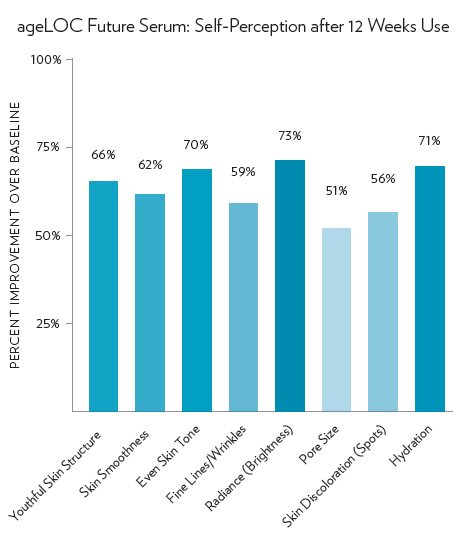 ageLOC Gentle Cleanse & Tone
cleanses, purifies, replenishes, and hydrates skin, while preparing it to receive advanced anti-aging ingredients, leaving your skin feeling soft, refreshed, and youthful.
ageLOC Future Serum
delivers the maximum concentration of ageLOC to target the ultimate sources of aging.
ageLOC Radiant Day SPF 22
a lightweight, daily-use emulsion that hydrates the skin and fortifies against signs of aging while skin brightening ingredients deliver visibly brighter, more radiant skin. This silky smooth formula also protects against sun damage with SPF 22, stimulates youthful cell renewal for a smoother, softer texture, and reduces the appearance of fine lines and wrinkles.
ageLOC Transforming Night
ultra-mild ingredients that mimic the skin's own structure, working with the skin's natural night time renewal process so you wake to glowing, supple, youthful looking skin. Specially formulated to reduce the look of fine lines, wrinkles, and pores, this premium night cream reduces sensitivity while replenishing the skin's natural moisture-binding ability for deep hydration.
For more information on the ageLOC Transformation set, please visit https://www.nuskin.com/content/nuskin/en_SG/products/nu_skin/ageloc/36182058.html
Pharmanex products listed in the U.S. Physicians' Desk Reference (PDR)
The Physicians' Desk Reference (PDR) is widely recognized as the most trusted and commonly used prescription drug reference in the USA and provides physicians with the full legally mandated information relevant to writing prescriptions. The publication has been around for almost 70 years and can be found in nearly every physician's office, clinic, hospital, pharmacy, and library.
Physicians need to be able to rely on a trusted reference as there are thousands of Food and Drug Administration (FDA) approved prescription drugs with all the side effects and interactions to consider. Though supplements do not require FDA approval to be included in the PDR, supplements are screened to ensure that they are of a high quality and companies must be able to substantiate their claims.
The following are Pharmanex products listed in the PDR:
 ageLOC R2
 ageLOC TR90 System
 LifePak
MarineOmega
CordyMax Cs-4
ReishiMax GLp
Tegreen97